Kısa inceleme: Razer Core V2 + Blade Stealth (i7-8550U)
Oturma odanız için teknolojik İsviçre çakısı. Razer'ın Core V2 modeli her şeyi mümkün kılacak şekilde düşünülmüş. Ama bu cihaza gerçekten ihtiyacınız var mı?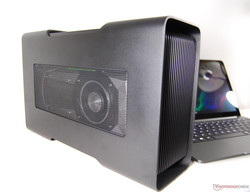 The verdict is clear: With the Razer Core V2, it is possible to transform an ultrabook into a gaming machine. Considering also how easy it was to assemble and set up the enclosure, Razer deserves praise for this device. One big advantage of Razer's Core is its compatibility with any computer equipped with a Thunderbolt 3 port. The enclosure's quality is good, and the case is very well-made. The only minor flaw here is the disadvantage suffered by single-slot graphics cards. These GPUs cannot be easily affixed to the enclosure, and it is up to the user to figure out how to fasten them securely within the device. The Core V2 deserves more serious criticism for the volume of the fans on the underside of the enclosure. Under just a medium level of load, we wished we could banish the Razer Core to another room. At the highest possible resolutions and detail settings, the fans rev up to full speed and produce a serious din. The fan volume makes playing games without headphones nearly impossible, and anyone else in the room is sure to leave. After gaining practical experience with this enclosure, this is perhaps the only significant criticism one could offer.

Razer did almost everything right here, demonstrating how easily an unassuming office laptop can be transformed into a gaming laptop in seconds.

As was true of its predecessor, the Core V2's one big catch is its price. On Razer's website, the Core V2 costs 519 Euros (~$615; US version $500). Combined with a mid-range graphics card, the cost rises to 700-800 Euros (US costs in dollars are comparable). With a high-end graphics card, the price falls in the 1000 Euro/dollar range. That kind of money could be easily invested in a bona fide gaming laptop, to the same end. On the other hand, a laptop with a high-end graphics card is not a particularly mobile item, given that they are quite heavy and soon run out of battery power. Consumers who prize mobility may therefore be drawn to external graphics solutions á la Razer Core V2. Admittedly, Razer has little control over the high investment cost – it is in the nature of the thing. External graphics solutions have always been associated with high costs, since the graphics card itself is not the only expense that must be taken into account. The user also needs a power supply for the card, a case, and the appropriate hardware for docking. To buy everything all prepared by one manufacturer – especially when it is well-made with a classy design like Razer's – must come at a price.